A total of 13 new wood-based solutions were entered into the Uusi puu – New Wood 2022 Product public vote showcasing sustainably produced everyday materials.
"It's great to bring to spotlight new wood-based solutions, many of which are already present in our everyday life. The spectrum of products entered in the Uusi puu competition reflects the endless diversity of applications where wood-based materials can be utilized," says presenter of awards Martta Fredrikson, CEO of Finnish Forest Foundation.
The Uusi puu – New Wood award winners were elected in a social media based public vote that attracted nearly a thousand votes. The aim of the public vote was to give visibility to the wood-based materials made by the Uusi puu member organizations. The rules allow use of existing materials, but the actual commercial products or applications entered into the competition must be new.
The results of the competition were announced at the PulPaper 2022 event, Future Square Stage, on 7 June, 2022. Presentations of all solutions chosen as candidates in the public vote can be viewed here.
Award winners from left to right: Tia Hakuni, UPM Biocomposites; David Solomon, Mysoda; Petro Lahtinen, Woodio; Anne Penkari, Pyroll Packaging Group; Arja Vanhanen, Metsä Board, and Aki Kuivaniemi, Golf Coat. Photo: Vilma Issakainen
1st place: Innovative reuse and repurposing of packaging supports biodiversity
Repurposing and reusing of packaging is one of the principles of circular economy. Made of lightweight but durable paperboard, the golf ball package designed by Metsä Board and Golf Coat won first place in the Uusi puu – New Wood public vote.
Transforming golf ball packages to insect hotels is an innovative idea. This implementation gives packages a new life, as well as home and shelter to insects and pollinators.
"We wanted to give our golf ball packages a second life after use, a life that promotes the well-being of nature," states Aki Kuivaniemi, CEO of Golf Coat Oy.
At a packaging design workshop organized by Metsä Board, a paperboard box was transformed into a reusable insect hotel.
"Close cooperation of all actors was required for the concept of insect hotel to take shape. Involved in the design process were Golf Coat as the originator of the idea, packaging design company Futupack, paperboard packaging maker Pyroll, and our own designers," says Ilkka Harju, Packaging Services Director, EMEA and APAC, at Metsä Board.
2nd place: A biocomposite based appliance reduces carbon footprints
Biocomposites based on renewable raw materials replace fossil-based plastics. In the Uusi puu – New wood public vote, this more environmentally friendly material won second place for the sparkling water maker developed by UPM Biocomposites and Mysoda.
"The idea of utilizing wood-based raw materials emerged when we set out to design a new line of sparkling water makers," says David Solomon, CEO of Mysoda.
"We wanted our appliances to have high-end design, but we also wanted to improve our carbon footprint. Making sparkling water at home is eco-friendly in itself, but we wanted to achieve even more. We decided to become the trailblazing maker of more responsible home appliances."
"After exploring several ecological materials, we decided that wood-based biocomposite is the best option for Mysoda", says Solomon.
Mysoda sparkling water makers are made of almost 100 % renewables and wood-based biocomposite. UPM Formi EcoAce biocomposite is made of wood fibres and biopolymer derived from UPM BioVerno naphtha.
3rd place: Flavor-savoring and recyclable cardboard packaging for tomatoes
The third place in the Uusi puu competition went to the plastics-replacing cardboard tomato packaging by Pyroll Packaging Group and Agrifutura. The window of the package is made of biodegradable, wood-based cellulose acetate.
"This is a fine example of tomorrow's fiber-based, plastics-replacing packaging. It is user-friendly, and supports sustainable development," says Anne Penkari, Head of Marketing and Communications at Pyroll Packaging Group.
According to Penkari, tomatoes keep their freshness well in the cardboard box. The tomatoes are hand-picked only when they are fully ripe and packed as bunches on the vine to ensure that flavors keep developing until the moment of consumption. The product is also beautifully displayed in the cardboard box.
Recycling instructions are visible at a single glance, and the packaging is easy to recycle with cardboard.
Special Recognition Award: High-design, new generation wooden toilet seat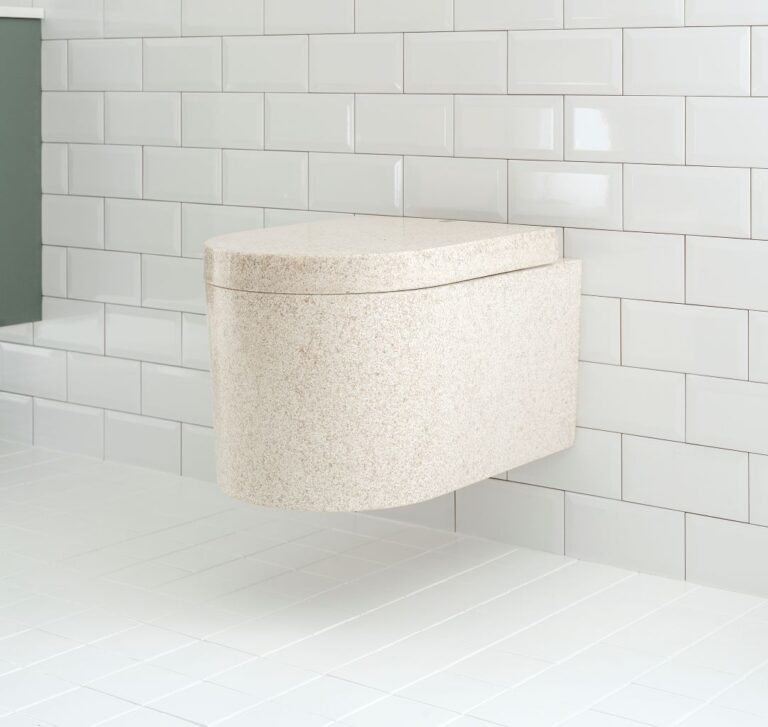 Wood-based biocomposite material can be used to make fully waterproof toilet seats.
The Woodio Block toilet seat is made in Finland. with a minimal carbon footprint. The modern, wall-mounted toilet represents timeless Scandinavian design and functionality.
In everyday use, Woodio's wooden toilet works the same way as other toilets. The impact-resistant Woodio® material makes the toilet practically unbreakable in normal use. The material's scratch-resistant coating also makes it easy to keep clean.
"The ceramic industry is among the most polluting industries globally. Woodio's material innovation was inspired by the idea of using wood to make more durable bathroom tiles," says Petro Lahtinen, CEO of Woodio Oy.
"Woodio offers a less environmentally burdening solution, and changes our ideas of tomorrow's bathrooms."
Uusi puu
Uusi puu – New Wood project showcases wood-based solutions already available on the market, their impacts on society, and the future of the industry. We communicate news and information on wood-based bioeconomy to societal and political influencers and decision-makers. The main funder of the project is Finnish Forest Foundation, funder of activities strengthening forest livelihood.
Participating organizations

Aalto University Bioinnovation Center – Finnish Forest Products Engineers' Association – Finnish Forest Foundation – Jaakkoo-Taara – JAMK University of Applied Sciences – Jospak – Metsä Group – Metsähallitus – The Central Union of Agricultural Producers and Forest Owners (MTK) – MM Kotkamills  – Paperiliitto – Paptic – Pyroll Packaging Group – Sulapac – Suomen Aaltopahviyhdistys – Tampere University of Applied Sciences – Tampere University – VTT Technical Research Centre of Finland – UPM – Walki – Woodio – Äänekosken kehitys
For more information
Virpi Korhonen
Project Manager
Uusi puu Project
Metsäviestintä Oy
Salomonkatu 17 A 5th floor
00100 Helsinki
Tel. + 358-400-697973
Email virpi.korhonen@uusipuu.fi
Twitter, LinkedIn, Facebook, YouTube: @uusipuu Instagram:@uusipuu.fi